Show Our Shoes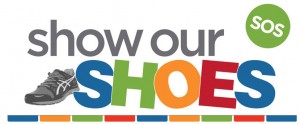 Safe shoes are "in" at Kaiser Permanente!
Your shoe selection can be the difference between your safety and injury at work. Did you know that the type of shoe you wear to work could be the cause of a slip, trip, or fall? OUCH!
Show that you care about safety by wearing your safe shoes over to the "Show Our Shoes" table at your facility on the designated date and you will be a footwear winner! If you are wearing SAFE shoes you will receive a cool free gift. Take Charge! participants bring your card with you to receive 1,000 points.
Which shoes are you wearing? Are you safe from injury?
The Don'ts of Safe Shoes:
• High heels • Open toed • Sling backs • Crocs® • Flat or worn tread
The Do's of Safe Shoes:
• Low heels • Close toed • Closed backs • Good tread for traction
Dates and Locations:
Wednesday, August 6
Morning: 8:15-9:15 am
Lincoln MOB – Lobby
East Roseville Parkway – Lobby 1680 ERParkway
Sierra Gardens – Lobby
Gibson Radiation Oncology – Lobby
Professional Drive – Lobby
Morning: 7:45-8:15am
Afternoon: 2:45-3:45pm
Sacramento Medical Center – Outside by Pharmacy entrance
Wednesday, August 13
Morning: 8:15-9:15 am
Riverside MOB – Courtyard
Davis MOB – Lobby
Point West MOB – Lobby by Health Education
Fair Oaks MOB – Lobby by Pharmacy
Rancho Cordova MOB – Lobby by Atrium
Morning: 7:45-8:15am
Afternoon: 2:45-3:45pm
Roseville Medical Center – Courtyard by Cafeteria Entrance / MOB 2 Lobby by Health Ed Center
Wednesday, August 20
Morning: 8:15-9:15 am
Watt Ave
Arden Complex – Lobby
Folsom ASU – Vanessa Pewitt/Aissa DeLeon
Lunch: 12:30–1:30 pm
Folsom MOB – Lobby during BBQ