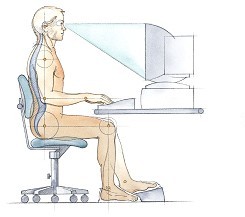 Adjust seat height; thighs should be approximately parallel or slightly angled to floor. Knees should never be higher than hips.
Seat pan short enough (front & back) for knee clearance with 2-3 finger widths from seat to back of knee.
Adjust chair to support lower back. Place curvature of chair to the curvature of back.
Monitor height should be 1-1/12 inches from top of screen at eye level.
Monitor distance should be approximately 18" to 24" from operator, typically an arm distance away.
Elbows should be relaxed next to body at a 90°-103° angle.
Wrists should be straight, not angled up or down.
Keyboard should be flat at elbow level with a wrist rest to support wrists when resting from keyboard or mouse.
Feet flat on floor; footrest is needed if feet are not supported by the floor.
Limit reach throughout the day by placing items within the "safe reach zone".
For more information, visit the "Learning About Ergonomics" website from your KP networked computer.