It's the Thrive Wellness Walk!
Who's in the mood for some friendly competition?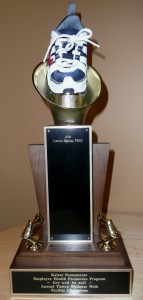 It's that time of year where we scramble to tie up our laces and head out in great numbers to see which facility will win the perpetual trophy this year!
Sacramento and Lincoln have won two years in a row….which facilities will change that this year?
Join us next Wednesday, April 30 for the Thrive Wellness Walk. See below for walk times.
Roseville Medical Center and Sacramento Medical Center: 7:45 am – 8:15 am and 12:45 pm – 1:15 pm
All other MOB's: 12:45 – 1:15 pm
Please click on LOCATION DETAILS to find out exactly where your facility is meeting. For campus maps, please click on MAP.
The facility with highest percentage of walkers will be declared winners and take home the Thrive Walk TROPHY and bragging rights!
There will be a live well be well incentive for all participants. Take Charge! Participants earn 1000 points for signing in and participating.
Walk on!! Walk on!! Walk on!! Walk on!! Walk on!! Walk on!!